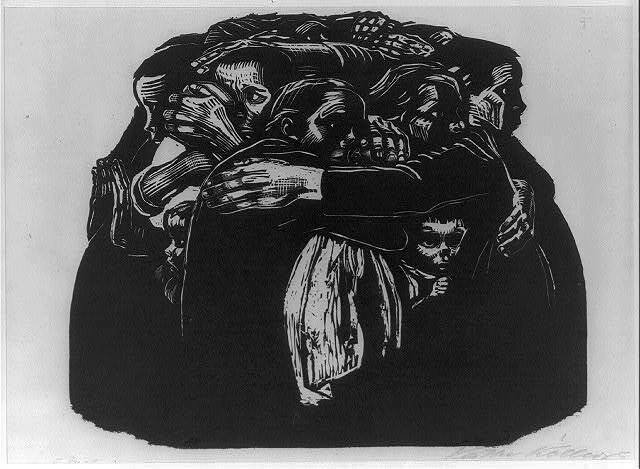 _ File:"Die Mütter" - Käthe Kollwitz ; Felsing (printer). Wikimedia Commons
I have had an uneasy relationship with The Handmaid's Tale from the beginning while my wife has been all in on it. My uneasy relationship has multiple sources. To begin with, I find it unrelentingly bleak. There aren't that many triumphs of good over evil and they can never be enjoyed for very long before the bleak returns. On some level I suppose it taps into my worst fears about the present moment in the United States. With daily stories of state legislatures passing draconian anti-abortion laws and of the constant threat of Christian Nationalism flooding the zone, life is imitating art a little to directly.
There also isn't, for me anyway, a likable male character or any place for a relatively enlightened male to lodge himself in the program. Even the relatively good men, Luke and Nick, are hard for me to identify with. It feels to me like the writers don't want us to get comfortable with any of the male characters because, at the end of the day, they all carry the patriarchy with them.
I am white, male, 6' 1" tall and, my wife would say, handsome. In the United States of America this means I have been dealt a pretty good hand. I could only have done better if I had been blond and wealthy. Not that it has felt that way to me. I am an outlier, more a poet and artist than a rugged male individualist. I have not enjoyed the "full blessings" of my stature, gender and race, partly because I haven't seen them as blessings. Still, it's been a lot better than it would have been without them.
I count myself as one of the good ones in terms of respecting the women in my life. Broadly speaking, I love women. Broadly speaking, I don't like men. Or perhaps, I should say, I don't like patriarchal maleness very much. Until the likes of Lauren Bobert and Marjorie Taylor Green showed up in congress, I was fully rooting for a takeover of the levers of power by women, or at least that they should become equal in numbers to the men. And, more than many men, I have a deep appreciation of the patriarchy run amok from my experiences with the family I grew up in.
In both my marriages I have not been the main breadwinner. The first one didn't handle that very well. There were a lot of things it didn't handle very well which is why I can label it my first marriage. The present one tolerates it well, though I am not without experience in the power dynamic of not being the main breadwinner. I had flush times in my working life but they didn't last and my present wife is the one who secured our retirement. As a means of compensating and saying thank you, I willingly take on most of the household work. I do the grocery shopping, meal planning and cooking, weekly laundry, weekly vacuuming and dusting, manage the finances, provide resident handyman services, though rarely with the alacrity my wife would like to see. My wife keeps the cash flow going, handles the dog grooming and care and sometimes helps with the other things. Because she doesn't drive, I make it possible for her to get where she needs to go, which I am always happy to do though she doesn't enjoy being dependent on me in that way. I am the one more likely to make a celebration at birthdays, anniversaries, holidays, etc.
So, I suppose I have a right to claim that I am relatively "woke" when it comes to gender roles and not being an oppressive patriarchal son of a bitch. I am sure I have my patriarchally driven elements just as I have my racially prejudiced elements, though I am relatively enlightened in that department too.
When I consider the LGBTQ+ spectrum and wonder if there is any part of it that I am drawn to it would be the transgender part of it. I can imagine myself being a woman and even played a bit at cross dressing in my younger years though I don't really find myself physically capable of being feminine enough to go all in on it. That's probably why I struggle with the character of June. To me, feminine is soft, curved and receptive. June is hard, angular and a warrior.
This isn't to say that I am not attracted to women physically. I am very attracted to women physically. One of the sad things of my life is to have equated sex with love, expressed and received, as many men do, and then grow old. At least I was able to have a few profoundly good sexual communions along the way, especially with the woman I am now married to. They live on vibrantly in my memory.
So. Back to Handmaid's tale. This past week we were watching episodes 7 and 8 of season 5. The episodes where Serena gives birth with June's assistance. The episodes where Serena flips from a privileged woman to being a Handmaid. I didn't like June very much in the scenes following the birth of Noah, Serena's baby. I had been rooting for their recognition of each other's humanity. Of course June had every right to hate Serena, but I was into the whole forgiveness turn the other cheek thing and thought they might thenceforward march together as comrades in arms. I guess there is more shit to go through before they can emerge to the other side together.
Serena is the character I identify most fully with right now. She is the soft and receptive one at the moment, though I can see flashes of the warrior surfacing in her. With June, it is the reverse. We see flashes of softness and receptiveness surfacing now and again in her warrior being.
I got really angry with June's behavior towards Serena after Noah's birth. She was mean, and not just to Serena, but to her husband Luke as well. When I first watched the eighth episode I got so angry I had to leave the room. I wen't to bed. I couldn't even talk about it with my wife the next day. Imagine that, a fictional character in a TV program makes you so mad you have to leave the room. You can't watch it. Woah, what's that all about?
In When Things Fall Apart, Pema Chödrön writes:
… no matter what the size, color, or shape is, the point is still to lean toward the discomfort of life and see it clearly rather than to protect ourselves from it.
This is what one of her teachers called "leaning into the pointy bits." I decided to rewatch episodes 7 and 8, to lean into those pointy bits.
To my surprise, the second time through I hardly got angry at all. There were still moments when I did not like June, where I thought she was gloating, being unkind, letting her anger get the best of her. The Buddhists will tell you that loving kindness is the way. But I suppose when you have the injustices of the patriarchy raging down through the ages at you it is hard to forgive and forget, to turn the other cheek, even at the moment of the birth of enlightenment in a woman who was a part of inflicting great suffering on you.
As I have suggested, it is difficult for me to find a place to lodge myself within the Handmaid's tale, there isn't a male character that feels like me. Right now, it's Serena who most feels like me, though the writers of this show rarely allow you to love a character for very long. They are all human after all, which is, I suppose, high praise for the show. What I realize though, is that I struggle most of all with June. I struggle with her warrior nature. I want her to be soft and receptive which is my (patriarchal) idea of the feminine. To know someone intimately is to know their sharp points as well as their soft curves. To love them is to lean into those points as well as to be received in the bliss of their enfolding arms. I think I have finally come to understand June and myself in a new way. Pema is right. Lean into the pointy bits, don't run from them. I am looking forward to season 6.