October 07, 2022
Heather Cox Richardson, October 06, 2022
Trump's continuing insistence that he won the 2020 election, and the Republican Party's embrace of that lie despite the fact that Biden won by more than 7 million votes in the popular vote and by 306 to 232 in the Electoral College, says that they will never again consider the election of a Democrat legitimate.
"If you care about democracy and you care about the survival of our republic, then you need to understand—we all have to understand—that we cannot give people power who have told us that they will not honor elections," Cheney said.
… the next two elections will be determinative about which way the country is going… democracy or authoritarianism… conservatives, don't believe in democracy, haven't believed in democracy for some time now… why?… because conservatism in this country is presently focused on the preservation of the power of the mostly white patriarchy and they can't preserve their power if elections are free and fair… they are in desperate survival mode where any means justifies the end… thus, scandals like those of Herschel Walker, which would have taken down any politician just 10 years ago are no longer disqualifying… there is an absolute abasement in this desperation… the trouble is, it may prevail…
Want Lipstick That Actually Lasts? Rouge Dior Forever is the Answer
… i have a deep love of the feminine and what is more feminine than lipstick, or more important to lipstick than it be lasting?…
Who should use it? Anyone who wants intense, pigment-rich matte lipstick that actually stays where it's supposed to – there are no smears, smudges or fading here
How long until I love it? Probably 16 hours after you first put it on, as one application promises to last that long
How planet-/people-friendly is it? As part of Dior Beauty's Responsible Formulation Charter, the brand aims to source all ingredients in the most socially and environmentally responsible way possible
How do I use it? Make sure your lips are primed and moisturised with a good balm, then add a slick of Rouge Dior Forever and leave to dry for three minutes
Mushrooms: Cellist Zoe Keating Brings to Life Sylvia Plath's Poem About the Tenacity of the Creative Spirit
They were the first to colonize the Earth. They will inherit it long after we are gone as a species. And when we go as individuals, it is they who return our borrowed stardust to the universe, feasting on our mortal flesh to turn it into oak and blackbird, grass and grasshopper. Fungi are the mightiest kingdom of life, and the least understood by our science, and the most everlasting. Without them, this planet would not be a world. Like everything vast and various, they shimmer with metaphors for life itself.
Viruses Are More Like Cone Snails Than Hijackers
… as i read this article, there is this growing sense of interconnectedness… that all things are connected to all other things and that the universe can only be understood as an incredibly wondrous tapestry of matter and energy and a byproduct, life… we can't understand the parts without some comprehension of the whole… and we can never think that anything can be understood in isolation…
Viruses, like cone snails, evolve to be more like what sustains them. It is an uncomfortable form of relatedness, this predatory metabolic convergence, but it cannot be denied that it generates amazing patterns of likeness across biological kingdoms without everything having to be descended from the same line of direct genetic inheritance.
Even if something has evolved to get away from its mimic, it holds the imprint of that entity's influence in its difference, like a shadow.
Immersing Yourself in the Works of Gustav Klimt #art #gustav-klimt #exhibitions
In the unlikely setting of the Emigrant Industrial Savings Bank in Manhattan, seeping into the ceilings, floors, walls, and recesses of the hall, projections of Gustav Klimt's paintings are now set on an hour-long loop. Built between 1909 and 1912, the bank's interior retains many of its original decorative elements, which include elegant glass panels, patterned limestone carvings, and brass detailing. Contrary to what its facade seems to convey about what happens inside — mysterious and important affairs of the economy and the state — people inside are huddled and seated in clusters on the ground and on chairs in darkness, hushed and sedated by a carousing Johann Strauss waltz.
Wrightwood 659 Hosts Exhibitions on the "First Homosexuals" and Michiko Itatani
Roberto Montenegro, "Retrato de un anticuario o Retrato de Chucho Reyes y autorretrato" (detail) (1926), oil on canvas, 102.5 x 102.5 cm, Colección Pérez Simón, Mexico
The First Homosexuals: Global Depictions of a New Identity, 1869-1930 starts with the year 1869, when the word "homosexual" was first coined in Europe, inaugurating the idea of same-sex desire as the basis for a new identity category. More than 100 paintings, drawings, prints, photographs, and film clips from public and private collections around the world are on view, including works that have never before been allowed to travel outside their respective countries. This groundbreaking exhibition is the first multi-medium survey of early, determinedly queer art that explored what the "first homosexuals" understood themselves to be — and how the dominant culture, in turn, understood them. This is part one of a two-part exhibition (the second is planned for 2025 and will feature 250 masterworks) developed by a team of 23 international scholars led by distinguished art historian Jonathan D. Katz with associate curator Johnny Willis.
French author Annie Ernaux has won the 2022 Nobel Prize in Literature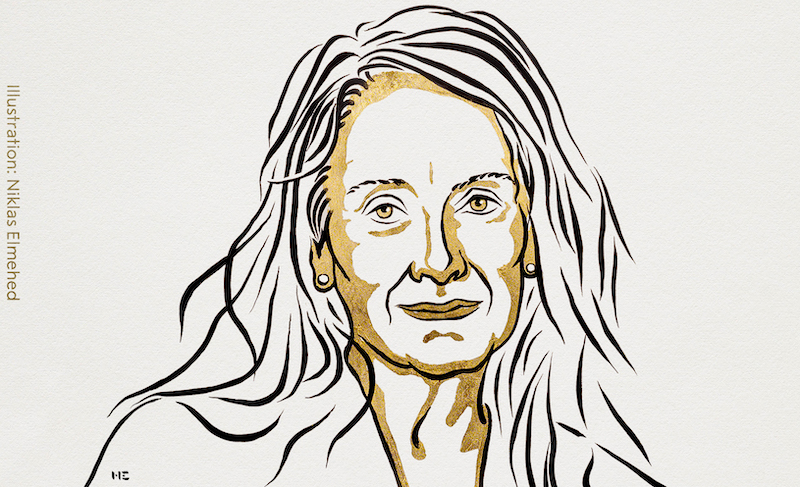 Annie Ernaux is the author of some twenty works of fiction and memoir, winner of the Prix Renaudot for _A Man's Place_, and of the Marguerite Yourcenar Prize for her body of work, and recently the winner of the International Strega Prize and the French-American Translation Prize and shortlisted for the Man Booker International Prize for The Years.
Annie Ernaux on the "Infinite Lack" in Our Search for Love
Anyway, what does this sign really mean, the phone call from the Latin Quarter? That he's thinking of me? But in what way? There's nothing more impossible to imagine than the desire, the emotion, of the Other. And yet, only that is beautiful. All I dream of is this perfection, without yet being sure of attaining it—of being the "last woman," the one who erases all the others, with her attentiveness, her skilled knowledge of his body: the "sublime affair."