… 222.8 lbs…
… been walking more the past couple of days, in the morning… no afternoon labor… snacking more?… eating more?… definitely drinking more… was doing better with shorter, more contemplative walks, but that was coupled with afternoon labor…
… i am determined to loose some weight…
… HCR depressing this AM, for its discussion of climate change and the inability of the US to get its act together… Republicans are uniformly against any legislation that promotes a fossil fuel free future, as is Joe Manchin, who claims fighting inflation now is more important than fighting climate change… inflation is a problem that will only get worse as climate change continues to unfold… fighting it is fighting inflation…
… i read a recipe for "The Ultimate Focaccia" by Paul Hollywood, of the Great British Baking Show… i resolve to make it… i love to cook… and as Hollywood suggests:
Baking is all about sharing. Even after more than three decades in many different professional roles, nothing beats making something for someone else and seeing their eyes light up when they taste it.
… i am hoping to add focaccia to my repertoire…
… an article entitled Sam Gregg's Captivating Portraits Capture the "Humanity" of Naples… i have a look and think he's made them look rather disappointed with life… nobody smiles… everyone looks at you as if they are suspicious of you… photographs of details of the environment seem uninspired… at the beginning of the article he mentions how friendly they are… it's not at all evidenced in the photographs…
… i am reminded my own photography is moving forward again… i have established a new work flow… i have begun building the weekly edit portfolios again, working in the present and backwards a little at a time…
… an article, How Joel Meyerowitz Became a Pioneer of Colour Photography… ah!, a modern master, I will like his work better… and i do, but don't see pictures i never would have thought to make, except one of a young woman about to bite into a strawberry… i don't photography people… he manages sensuality very effectively with the soft focus and the trope of a strawberry… i see a photography that comes from the last century… still great photography but one thinks the world has moved on…
It seems impossible to imagine there was ever a time when colour photography was not regarded as an art form. But for decades, the art world dismissed colour as commercial at best, closing ranks and excluding groundbreaking photographers for years. "When I first started shooting I shot in colour," Meyerowitz says. "A year later, I started shooting in black and white because I couldn't print colour in 1962. I only had slides to show people and I noticed they didn't look at them very long. They treated them like everybody's travel photos."
… as i read the article i begin to see the art of the photograph of the young woman… made in low light with a relatively slow exposure… she can't help but move a little and this is what softens her image…
… the article is promotional for Meyerowitz's new exhibition, Between the Dog and the Wolf
… Anna Leigh Clem, i thought, i know this photographer, she used to come to salon in Woodstock… i look through the work and i believe it has evolved as it is more comprehensible as a story than it was, at least in this selection of images…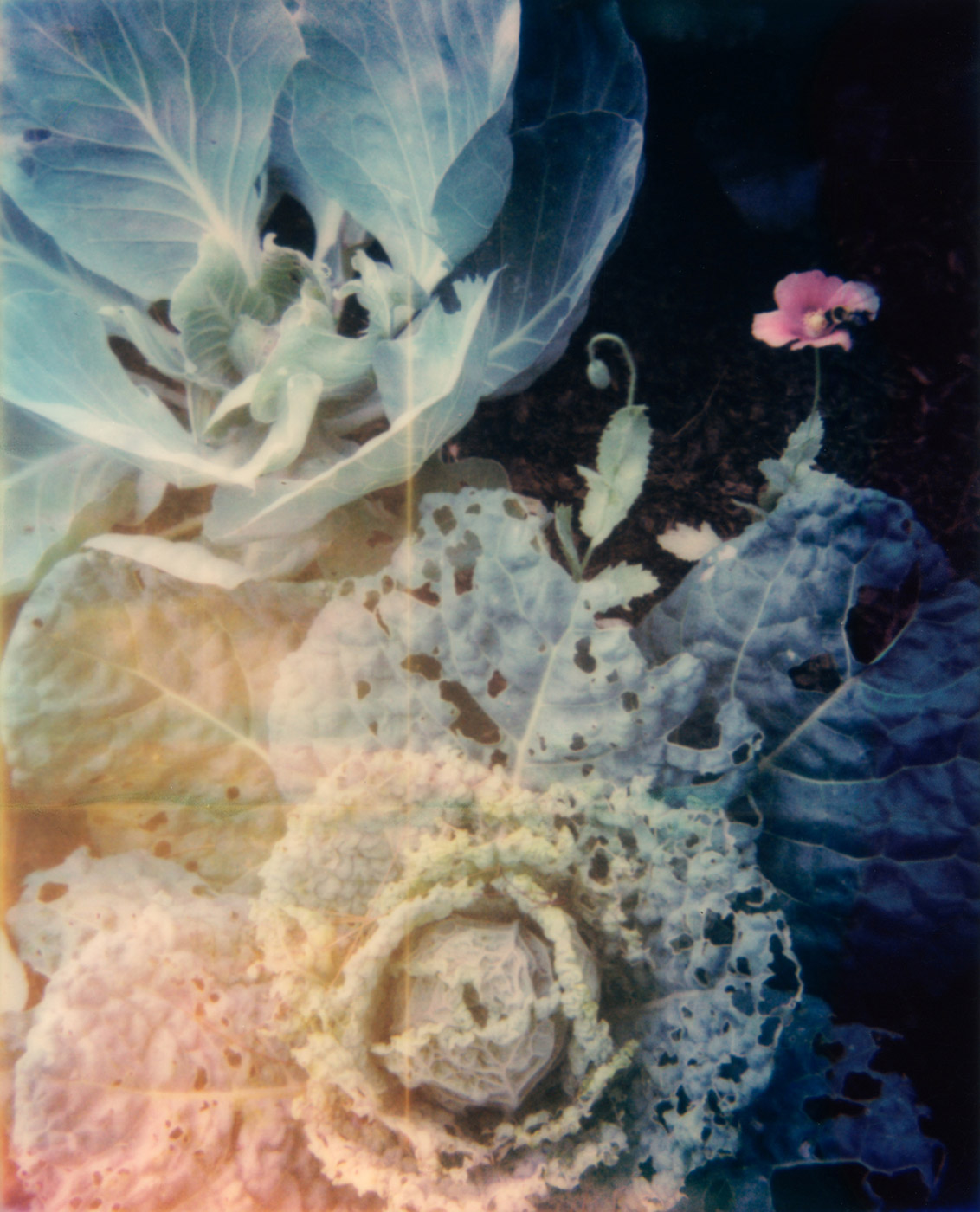 … bravo Anna!…
… another article on Great Women Artists, a survey of women painters over 500 years… i have put it on my list at Amazon… liked this painting by Hayv Kahraman…
---
… a leisurely walk down Main Street leaves me sweaty… the day will be hot… but then i knew that…
… continuing to think about the work of Anna Clem and about reaching out to her, letting her know i enjoyed the Booooooom! post…
… on the way out the door, i photograph tomatoes and think it will be a good picture… in the front there is a Carolina Swallowtail butterfly… it comes closer to work the flowers in front of me… i photograph it… i think these photos will be good too…
… loud talking barista is here this morning… i order decaf with a little agave in it… she squeezes out some agave onto a spoon and stirs it into my coffee… i think that is nice… she is wearing corduroy shorts that end just above her knees… they are green… she has a blue t-shirt… smallish breasts, a bit of a tummy and generous hips… if i make her sound fat, she is not… she could be one day, but not now… i notice one tattoo on her right upper arm… she is pierced through her right eyebrow…
… there was no coffee to set up for H… have to bring some home with me… looking at the coffees here there doesn't seem enough information to help me make a decision on any of the packages… they are all only 12 ounces too, which annoys me…
… an older gentleman in a British golf cap walks down the aisle, sets his bag and a folder of documents down at a table… he returns up front to get whatever he will get…
… two women walk from the back to the front… they are similar in stature and wear identically colored, though not identical, blouse/shirts… are they a couple?…
… this from Sea and Fog, Etel Adnan…
The divine is not spatial but needs space, is not material but needs matter, is not human but needs consciousness, is not a work of beauty but needs the sea's power of attraction.
… i think about this… divine attracts consciousness with the power of the sea's liquid material attraction… without consciousness, is there any divine?… but then there is the pansychic idea that everything has awareness… material at its most basic level has awareness, even if attraction to that which attracts it and in turn is attracted… this is the base level of awareness… to know something is adjacent…
… out of this i think about the rock on Block Island… i am aware of it… is it aware of me?… to the extent that we are bodies with mass and therefore gravitational attraction… we warp the space around us and between us… at least that is how i understand it…
… i publish yesterday's journal entry and photographs and walk… i included a map… have forgotten to turn on the map this morning… i need to do a routine that asks me to turn it on and off as i leave and return to the house…
---
… after editing today's photos… also some photos from previous weeks… working on getting caught up… making progress… deciding that iPhone photos are difficult to do as color… wondering if i need to try to do them in the apple photo app… they always seem to look better in black and white, at least as developed in Lightroom…
---
Heather Cox Richardson, July 20, 2022
Paul Hollywood: How to Make the Ultimate Focaccia
Sam Gregg's Captivating Portraits Capture the "Humanity" of Naples
How Joel Meyerowitz Became a Pioneer of Colour Photography